KX TWIN series
Gear centres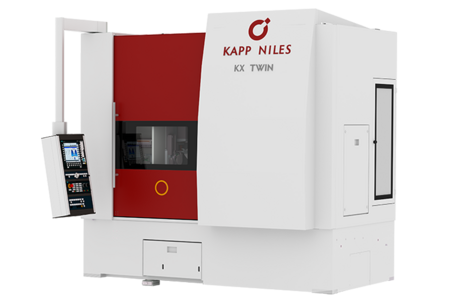 Machines of the KX TWIN series have been designed for continuous generating grinding with dressable and non-dressable tools. They are particularly suitable for the high production volumes in the medium and large batch production of gears and shafts. The concept includes two identical workpiece spindles arranged at opposing sides of an rotary indexing table. While machining one part, the second workpiece spindle simultaneously loads / unloads and aligns another part.
The machines are optimised for automatic loading with a standardised, cost-effective combination of pallet conveyor and gantry loader.
The profile grinding function is optionally available for the KX 260 TWIN. By using an optional high-speed grinding spindle (HS), it is even possible to grind gears with interfering edges which require a tool diameter of 55 mm (generating grinding) or 20 mm (profile grinding).
max.
tip diameter
[mm]
max.
workpiece length
[mm]
module
range
[mm]
max.
face width
[mm]
max.
helix angle
[deg]
KX 160 TWIN (HS)
170
770
0.5 - 4.5
320 (520)
±45
KX 260 TWIN (HS)
260
770
0.5 - 6
320 (520)
±45