RX 120
Rotor grinding machine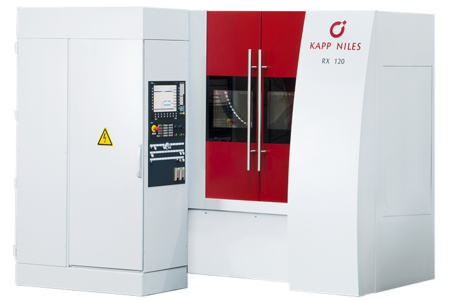 The machines of the RX series are used for pre-finish and finish grinding of pre-profiled steel and cast iron screw rotors.
Due to the innovative drive concept on the tool side, a maximum drive power of 46 kW is reached. Especially for roughing, this high performance results in extremely high stock removal rates and shortens machining times considerably. In combination with an optimally adapted tool technology, a highly productive and efficient working process will be guaranteed.
With regard to pre-grinding, the patented rotor grinding machine RX 120 provides the option to use the advantages of continuous generating grinding instead of profile grinding in manufacturing rotor profiles. For the finishing operation, only profile grinding is used. By applying the generating grinding process as the pre-grinding process, a reduction of up to 40 % in grinding time can be realised compared to conventional machines and processes.
max.
outer diameter
[mm]
max.
workpiece length
[mm]
max.
profile length
[mm]
max.
profile width
[mm]
max.
profile depth
[mm]
RX 120
120
425
220
80
30