E-Mobility
Trust in Technology
Trust in us to successfully implement your e-mobility projects. We are ready to shape the future of mobility together with you and set new standards.
For over 10 years, KAPP NILES has been intensively involved with the topic of gears in e-mobility and has established itself as a pioneer in this rapidly developing industry. Thanks to our many years of experience, we can offer you customised solutions for the production of gearboxes and gears in electric vehicles.
We are proud to be at the top of technological developments in e-mobility. With our extensive know-how, we are able to meet the requirements of this dynamic industry and offer you innovative solutions.
Our dedicated team of highly qualified employees is at your side. We understand the specific challenges of e-mobility and work closely with you to meet your requirements and deliver world-class results.
Discover the benefits of partnering with KAPP NILES and learn how our technologies can advance your business. Contact us today to learn more about our customised solutions for finishing gears in e-mobility. Together, we are leading the way to sustainable and future-oriented mobility. Trust in Technology with KAPP NILES!
---
Let's trust in technology
Together we increase your potential in the finishing of e-mobility gears.




Our qualified team of experts from the fields of technology / design / development will check your requirements.




Your personal contact will discuss the results and further steps with you.




You will receive an individual offer tailored to your requirements and production environment.
We will be pleased to check your individual requirements. Please contact us directly.
"Particularly with the varying and constantly increasing requirements for transmissions of electrified vehicles, it is always impressive to see how profound the knowledge of KAPP NILES is in this area. Here, the expertise goes far beyond the limits of the grinding machine, which is a prerequisite for understanding current customer requirements and translating them into a grinding process."
Dr.-Ing. André Wagner - Head of Grinding Technology | Hermes
"Together with KAPP NILES, we were able to work on a number of interesting research projects on the hard fine machining of gears. The highlight was certainly the integration of the polishing process directly on the gear grinding machine - which is now indispensable for a wide range of applications in the field of e-mobility."
Prof. Dr.-Ing. habil. Carsten Heinzel | Leibniz Institute for Materials Engineering (IWT) & University Bremen
"E-mobility needs high-precision gears, high precision gears need high precision diamond dressers and for high precision dressers we have KAPP NILES!"
Baocheng Feng - Tool Management Manager | Shuanghuan
"KAPP NILES is an invaluable partner in realising the complex gear tooth geometries that are needed for race and hypercar transmissions. We use their experience and support in both the profile and generate grinding technology for gears of the highest quality for quiet operation and for durability."
Martin Halley - Production Engineering Director | Xtrac
"E-mobility projects are very easy to realise with KAPP NILES. KAPP NILES is a competent supplier for e-mobility and offers top quality for every application."
Jürgen Kempf - Head of Technical Application Consulting and Sales | König MTM
"Manufacturing engineering is major key to economically and ecologically balanced powertrain production. KAPP NILES supports production-based innovation in FVA giving impulses and know how for innovative and up-to-date research projects. On the other hand KAPP NILES is lead applicator of FVA research results to set the pace for excellent production equipment and machines."
Dipl.-Ing. Christian Kunze | FVA (Research Association for Drive Technology - Support Association MOBIMA e.V.)
"KAPP NILES gear grinding machines have a reasonable layout, smooth automation system and excellent rigidity. After dozens of years of precipitation and improvement, they have always remained in the first front of worm gear grinding machines. In particular, the KX 300 P and KX 260 models continue to provide excellent stability and efficiency in the grinding of e-mobility gears, providing a good machining experience for the user."
Wu Youxiang - Manufacturing Engineering | Shuanghuan
"We completed long test runs of the gearbox with the development department. This resulted in change requests to the process and the tools, which always had to be implemented under time pressure. I had a contact person at KAPP NILES at all times - even at weekends if things had to be done quickly. This meant that we had a new batch of prototypes in the shortest possible time with which we could go to the test stand. KAPP NILES helped us a lot during the prototype phase of our new development for a fully electric transmission for a super sports car and was always an optimal partner for us."
Roberto Di Geronimo - Competence Leader Gears & Gauges | FPT
"Highest quality through first-class cooperation: With KAPP NILES we realise a large number of innovative clamping solutions for gears. An absolute win-win situation with maximum benefit for our joint customers."
Thomas Hübl - Head of Key Account | Hainbuch
"The investment in a KAPP NILES gear grinding machine was the basis for our competence development in gear hard machining. With the flexibility of this machine, we can map all current research topics in gear grinding around e-mobility."
Carsten Hochmuth | Fraunhofer IWU, Chemnitz
"With KAPP NILES we started the demanding topic of e-mobility gears at a new production site. We got perfect support for the package consisting of gear grinding and measuring machine."
Elias Häggström - Director of Gear Technology | Rezekne
Flexibility in the workpiece range
E-mobility has brought about various application areas with new challenges for gear manufacturing. From miniature gears in bicycle drives to the gears installed in cars and even larger workpieces in trucks - KAPP NILES machines offer the flexibility to meet a wide range of requirements.
The majority of electric cars use simple, non-shiftable transmissions consisting of input shaft, intermediate gear, intermediate shaft and differential gear. However, the demands on these gears are even higher due to the extremely wide speed and torque range. KAPP NILES offers the answer for reliable machining of these workpieces with highest quality.
When top speed is required in an electrically driven sports car, transmissions have to function under maximum load.
Read our success story to find out more about how KAPP NILES supported the development of a new drive train for a fully electric sports car.
The demands on the quality of gears have increased by leaps and bounds, not only in passenger cars but also in electrically driven commercial vehicles. Higher torques must be transmitted over a wide load range with high efficiency. At the same time, durability plays an important role.
To support you in meeting these requirements, we have advanced our grinding and measuring machines as well as their machining processes and chains accordingly.
Gears for bicycle drives are both very small and difficult to machine due to unfavourable workpiece geometries. Nevertheless, solutions are needed to manufacture these components in an equally productive, economical and consistent quality manner. All previously known fine machining processes have reached their limits here. Only through the development of generating grinding with the smallest tools is there a process that meets all requirements. KAPP NILES grinding machines with high-speed grinding spindles (HS) up to 25,000 rpm and correspondingly dynamic workpiece drives up to 5,000 rpm provide you with the basis for using this technology. This enables you to machine even the most complex gears precisely and efficiently.
---
By improving the surface quality of gears, a significant increase in performance can be achieved in electrically driven vehicles.
A smoother surface with a higher contact ratio can increase the efficiency of torque transmission and thus the achievable range of the vehicle. The maximum surface pressure can also be further increased in order to be able to transmit higher torques of the electric motors and to take account of the lightweight design concept through smaller gears.
KAPP NILES offers various solutions here, from fine or polish grinding as a combined process to polish grinding as a single process, and thus the right technology for your requirements.
You can meet these requirements for the highest surface qualities economically and reproducibly with fine or polishing grinding on KAPP NILES machines. Combined tools with different specifications are used for this purpose.




Conventional generating grinding uses a ceramic-bonded corundum grinding worm that consists of one specification throughout.
Combined process fine grinding




Fine grinding uses a combined tool with two specifications. In addition to the conventional grinding area, the tool has a fine grinding area that differs in terms of the tool specification. This allows surface finishes of Rz = 1 - 2.5 µm to be achieved with process reliability.
Combined process polish grinding




For even higher requirements, conventional grinding is combined with polish grinding. For this process, a tool with two areas is used. For polish grinding, a tool area with an elastic polyurethane or synthetic resin bond is used. Surface qualities of Rz < 1 µm can be achieved.




After hardening, gears are conventionally ground to remove the existing allowance including hardening distortions and to produce the final workpiece geometry. The tooth flanks are then shot-peened to harden the surface. In the final work step, they are polish-ground with a one-piece polyurethane-bonded tool as a single technology to achieve a high surface quality.
AGMA Emerging Technology Webinar
"Generating Ultrafine Surface Finishes on Gear Teeth for EV Applications"
Patrick Duhre, Team Leader Test Grinding / Contract Grinding at KAPP NILES, will present more on the topic of "Generating Ultrafine Surface Finishes on Gear Teeth for EV Applications":
Overview on superfinishing technologies on a gear grinding machine.
Classification of the technologies into different process chains.
Process and machine requirements for different tool geometries
At KAPP NILES, you not only get the technology, but also the flexibility to adapt to a wide range of e-mobility requirements. Contact us to learn more about our advanced solutions.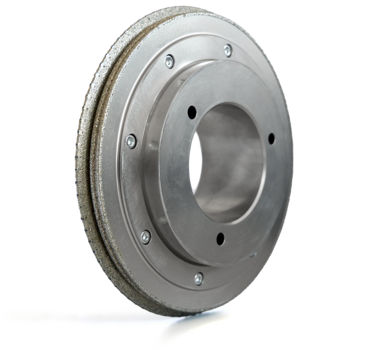 High-precision dressing tools
The gears used in E-vehicle transmissions have highly increased quality requirements. That is why we offer you dressing tools in a separate, high-precision design.
The special feature of such a dressing roll is, in addition to the reference surface optimisation, the reworking of the diamond grains after the coating of the dressing roll base body. This is carried out in such a way that the remaining profile form error of the dressing roll profile is smaller than with our standard dressing rolls. With these high quality dressers and the matching generating grinding worm specifications, significantly higher qualities can then be achieved on the ground workpiece.
Transmissions in e-mobility do not only have to be efficient, but also quiet. Up to now, workpieces with negative noise behaviour have usually been detected in EOL or in some cases on the roller test bench. The common random measurement of machined workpieces can only detect individual deviations, which later have an effect on the noise behaviour of the gearbox. This is where the Process Monitoring developed by KAPP NILES comes into the picture.
Based on internal machine control signals and signals from specifically used acceleration sensors, characteristic values are formed to assess the grinding process. This allows you to effectively and cost-efficiently identify workpieces with noticeable noise during machining. This reduces the amount of scrapped parts.
In addition to noise anomalies, you can also detect other deviations with the support of Process Monitoring in order to meet the high quality requirements in the field of e-mobility.
The data obtained with Process Monitoring can be used, among other things, to establish a correlation between the processing machine and the transmission test bench or measuring machine. This makes it possible to derive further findings for process optimisation.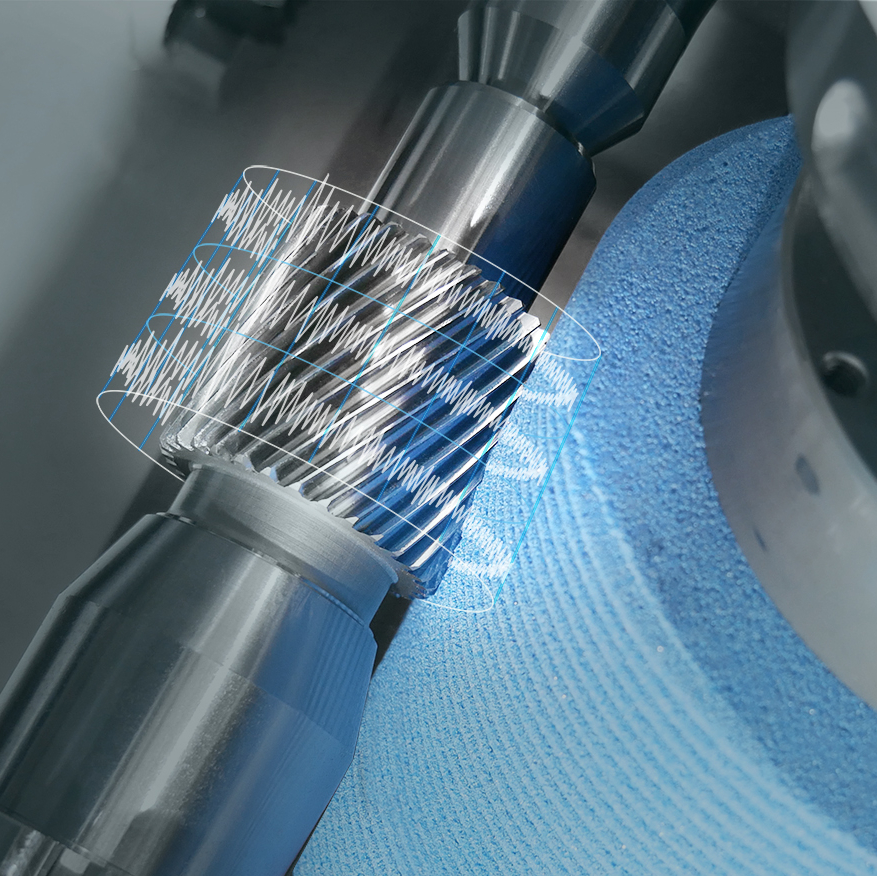 Learn more in our conference paper* in the chapter "Process Monitoring for noise related components".
*Published in: Thomas Bergs, Christian Brecher (eds.): Aachener Tagung zur Zahnradfertigung. 9-10 November 2022, Apprimus Verlag, 2022.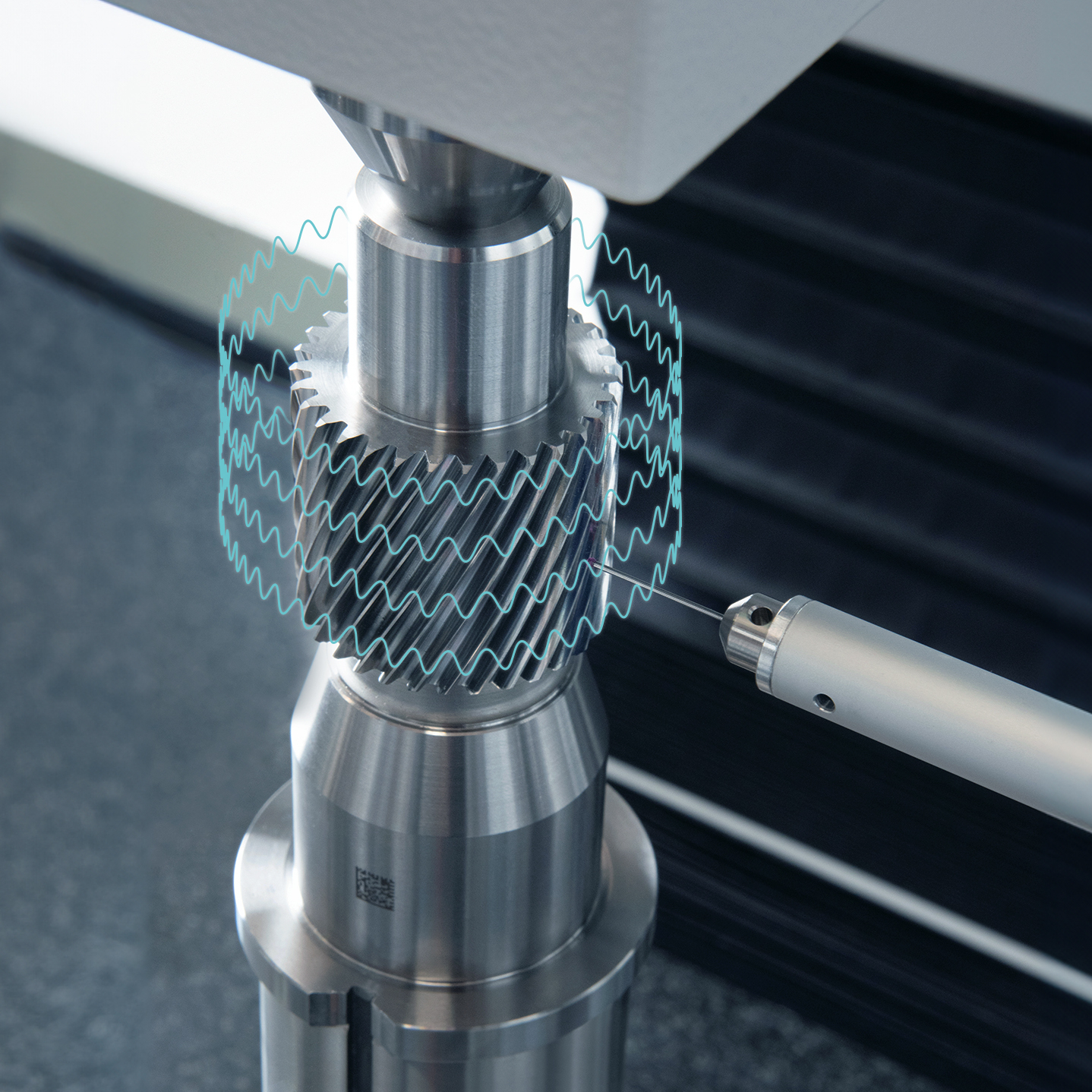 Assessment of workpiece quality
A closer look at the surface condition of the tooth flanks, especially the waviness, is becoming increasingly important in electric drives with regard to noise behaviour.
A waviness evaluation of the tactile measurement serves as a link between the grinding process and the noise behaviour of the gearing. This enables you to determine the cause of deviations by upstream process steps. The workpieces can be evaluated on the basis of definable tolerance curves.
For series-accompanying, random sample quality assurance, the KN gear-waviness software option for order analysis is integrated directly on KAPP NILES measuring machines and enables an immediate analysis automatically.
In addition, the measuring effort can considerably be optimised by a reduction of measured teeth compared to an all-tooth measurement. With KAPP NILES measuring machines and the integrated waviness evaluation, you can ensure low-noise gears for electric drives – precisely and efficiently.
---
Do you trust in technology?
We will be pleased to show you how to increase your manufacturing potential in the field of e-mobility with KAPP NILES.