KNM C series
Measuring machines for complex workpieces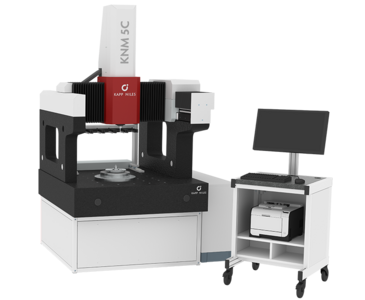 machine concept
With KNM C series, KAPP NILES Metrology GmbH - manufacturer of the currently largest gear measuring machines (stationary or transportable) in the world - offers a universal high-precision measuring equipment for max. diameters from 500 mm to 1,600 mm. The ultimate form measurement is best suited for medium and large components.
The device is a new development based on well-proven technologies, as well as innovations and has been perfectly adjusted to customer requirements specifically for the determination of form deviations of bearing rings, race rings and all kind of cylindrical workpieces.
Its set-up as CNC-controlled 4-axis measuring equipment permits expansion to a larger range of parts as well, including external and internal gears or 3D-measuring tasks on prismatic workpieces. Proven software for fully automatic measuring cycles is available.
features:
highly accurate mechanics in special design with perfect accessibility
base plate, side parts and axes of dark granite lead to consistent thermal conduct
base plate supported on controlled air springs for vibration insulation
air bearing guide elements in all axes for wear-free and smooth operation
generously sized guide cross-sections
large distances between bearing positions
Y-guide risen, drive close to the centre of gravity, low dynamic distortions
use of state-of-the-art drive technology (linear motors)
rotary table with air bearing and direct drive
integrated tailstock (optional)
perfect combination between the metrological features of a form measuring device with the strengths of a gear measuring machine respectively coordinate measuring equipment
measuring uncertainty (DIN EN ISO10360):
MPEE ≥ 0.6 µm + L/400
MPETHP ≥ 0.8 µm
type
workpiece
diameter
[mm]
max. measurable
vertical height
[mm]
number
of
axes
truth of rotation
(rotary table)
[µm]
X-axis
travel ranges
Y-axis
[mm]
Z-axis
diameter of
rotary table
[mm]
load of
rotary table
[daN]
KNM 5C
5 - 500
450
4
0.3
500
600
450
200 / 300
50 / 300
KNM 7C
5 - 700
550
4
0.4
600
750
550
300
300
KNM 11C
5 - 1,100
700
4
0.4
800
900
700
535
1,000
KNM 16C
5 - 1,600
700
4
0.5
1,000
1,200
700
750
2,500