DFT series
production environment friendly functional equipment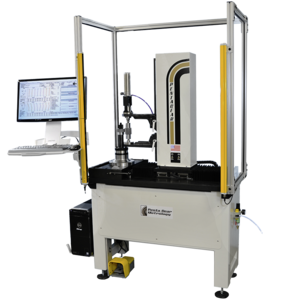 concept
The double flank rolling system was designed to handle the environment of the shop floor. The base of the machine was designed to ensure stability and longevity in operation. The dual slide rails provide a very robust base for the physical control of the machine components. The spindle has an industrial construction to handle the conditions in manufacturing.
Using the latest software, the system is operating in Windows 10 environment. The DFT system uses linear scales so positioning the slides to the proper mounting distance is easy and repeatable.
The rotary motor on the spindle has incorporated a rotary encoder to allow the user to identify a tooth that is out of specification.
We also offer a optional load cell to document the pressure of the mesh during the testing. A solid system that will provide many years of service.
features:
measure total composite error
measure tooth to tooth error
measure total runout
measure circular tooth thickness
optional journal references
automated cycle information
dimension over pins
document centre distance
document testing pressure during test
interface with robot for loading / unloading
save data in CSV and PDF formats
internal and external DFT are available
| type | centre distance [mm] | tailstock | autoload | force monitor |
| --- | --- | --- | --- | --- |
| DFT 100 | 100 | optional | no | yes |
| DFT 250 | 250 | optional | no | yes |
| DFT 400 | 400 | optional | optional | yes |
| DFT 100 Dual | 100 | no | optional | optional |