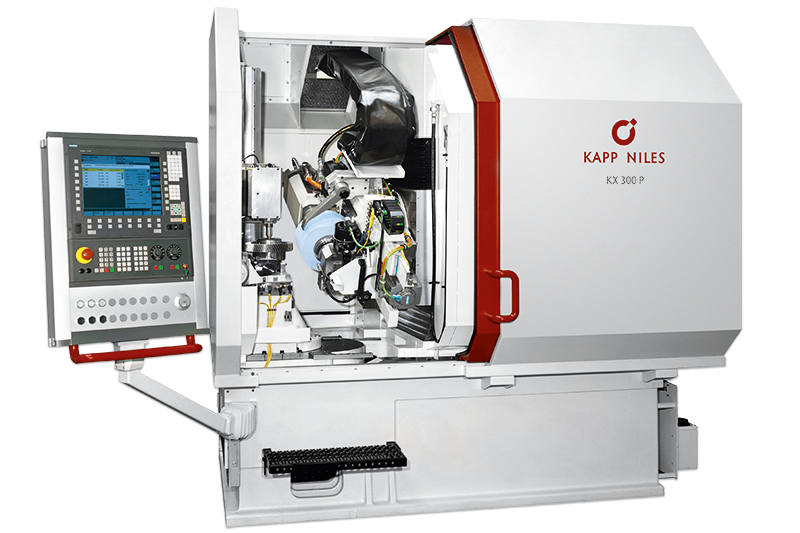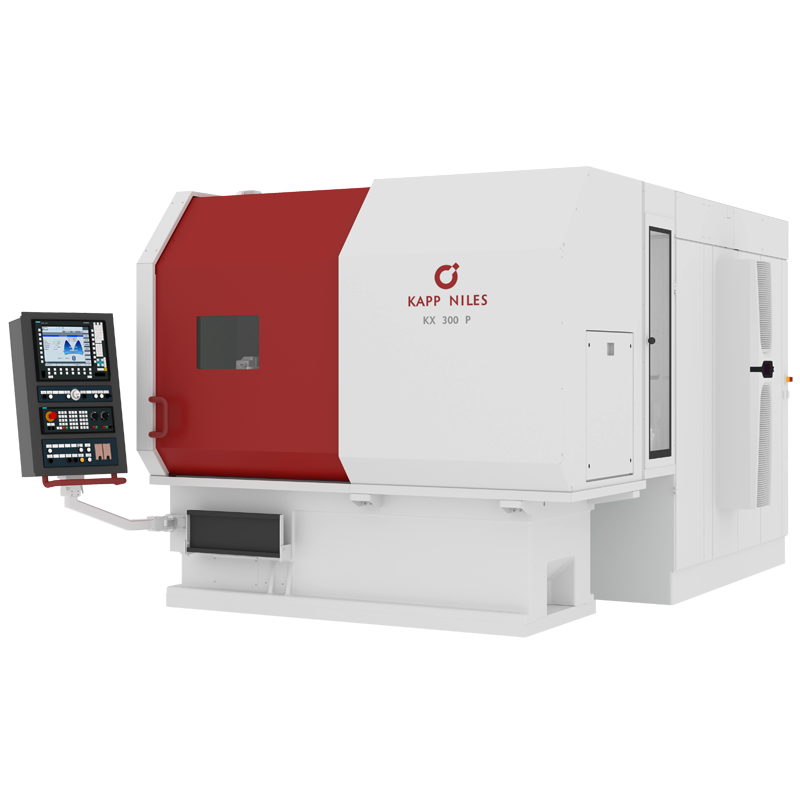 machine concept
Based on a modular system in combination with the application possibilities of different tool and process technologies, user-specific, optimal production solutions can be configured. The following methods are possible:
continuous generating grinding
discontinuous profile grinding
combination of both methods
Thanks to the flexible system and loading options, the KX 300 P is equally suitable for all gear requirements and production volumes. In this series the following tool concepts are offered:
dressable ceramic tools for the flexible requirements of prototype machining as well as medium and high-volume machining
non-dressable CBN tools for the highly productive manufacturing of medium and high-volume series
Since the tool spindle (with counterbearing) can hold several tools for generating gear grinding and profile gear grinding, the cut segmentation is possible due to the sequential use of roughing and finishing tools in one single workpiece set-up. Alternatively, several gears can be machined in one set-up. In addition to the mainly used cylindrical grinding worms, single or multi-set CBN profile grinding wheels can be used for full-form machining as an alternative.
A total of six NC-axes align the gear wheel and tool with each other. They swivel the tool to the axes cross angle and carry out the linear and rotary motions necessary for the machining process. Workpiece and tool are directly driven. In the machine configuration for the use of dressable tools, the profile dressing unit is integrated. From an easily accessible parking position this unit is automatically swivelled into the work area of the machine. By using the machine axes for dressing, the dressing of the cylindrical grinding worms as well as the profile grinding wheels can be performed very quickly and with a high degree of flexibility.
control and software
The control system Sinumerik 840D sl is equipped with an operator-friendly menu-driven user interface, developed by KAPP NILES to match the specific machining requirements.
measuring system
The optional measuring device allows to measure and to evaluate gear qualities against specifications. This functionality is mainly used to optimise the set-up processes in the machine, particularly in order to eliminate non-operational periods due to external measuring processes as far as possible. Alternatively, random samples can be tested during processing.
automation
There are several loading systems at your disposal which can be integrated in the machine arrangement.
max. tip diameter [mm]
max. workpiece length [mm]
module range [mm]
max. face width [mm]
max. helix angle [deg]
generating
grinding
profile
grinding
KX 300 P
300
780
0.5 - 8.0
0.5 - 10.0
320
± 45